NPR's Morning Edition ran a story today about Chandler Burr's perfume dinner (listen to it
here
if you missed it.) The story was just ho-hum from a perfume freak's perspective—at least, I thought so. I'm pretty lukewarm on CB, though I admire his gift for self-promotion. Really, I do.
What did intrigue me was a remark from the reporter who covered Burr's dog-and-sniffy show, Margot Adler. She's a very fine journalist. She's also a Gardnerian witch who wrote a book,
Drawing Down the Moon
, which has been a primary text for Neo-Pagans for nearly 30 years. It's actually a book of reportage, often referred to as a "field guide" to earth-centered religions in America, but because it was so friendly to the movement, people embraced it and defined themselves through it. The process of researching and writing the book led Adler to express her own spirituality in the Wiccan tradition. She also consorts with the Unitarian Universalists (who officially love witches, BTW), and she wrote a
nice article
for their magazine about her religious awakening.
So, Ms. Adler is my kinda people, or so I thought until I heard her say this morning that she is "perfume-phobic," and can't even tolerate scented candles. How can that be? How can anyone so devoted to a love of nature actually reject the sensual pleasure of scent, one of nature's great gifts? Moments like this are the reason I guard against admiring people too much. You're bound to find out something about them that crushes your fantasies of soulful kinship.
After listening to MA talk about her antipathy for perfume * sigh *, I took my morning trail walk, and was struck even more than usual by the constantly shifting scent of the woods. Every day something new sprouts or blooms, and other things die and decay, altering the mix. During a single walk, tiny changes in the wind, the temperature, and the humidity rebalance the smells that meet the nose. My walk takes me over varied terrain, from a little hollow with a burbling creek to the crest of a ridge. I go through maybe a half dozen micro-climates, and they all smell remarkably different.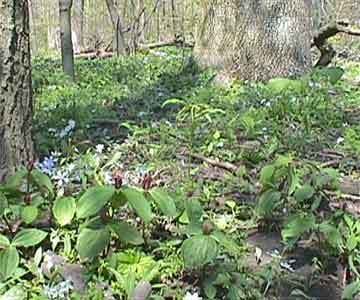 Stout Woods Nature Preserve, Indiana
It was wonderful, but I couldn't stop thinking about the perfume-hating witch. I don't know why Adler hates perfume. Maybe she's just allergic. But from what I know about her, I fear she may be one of those who regards the world of scent as one more manifestation of our sick consumer culture, a tool of the great capitalist beastie who would twist our natural instincts to serve his (I'm pretty sure it's a guy) lust for profit. I run into people like that in moonbat land all the time, lefty puritans who regard any pleasure as a potential instance of mind control. Orgasm is false conciousness.
But this is throwing the baby out with the bathwater. Sure, we all know about Evil Businessman and his minions. After all, who hates him more than 'fume lovers do, for his crimes against the great traditions of perfumery? Even back when the juice was pure and fine—when was that, exactly?—the marketing was often sexist and stupid. But it's a terrible mistake to assume that the deceitful manipulation of pleasure renders the pleasure itself false. It doesn't. The ecstasy of scent is goddess-given, baby. Just because you don't want to do the deed on the bad man's terms doesn't mean you should die a virgin.